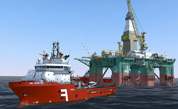 Minimum entry qualification requirements

Participants should be an Engineer Officer / ETO or shore based Technical Staff.
Participants should have a knowledge of their employers' company procedures and vessel safety management system (SMS), particularly relating to DP operations.The course may also be useful to Deck Officers and Masters who require a greater technical understanding of the operation of DP equipment.
Course aims
To give the student the following:
· Understanding of the theoretical and practical operation of DP systems;
· Technical understanding of the component parts of the DP and associated systems;
· An understanding of the limitations of equipment and the effects of equipment failures;
· An understanding of the limitations and the effects of incorrect operation of the systems;
· An understanding of work which can safely be undertaken with and without the help of equipment manufacturers, and more importantly, when to stop before affecting the vessels capability to perform DP operations or redundancy;
· The ability to fault find within the DP system and its components;
· Familiarisation with FMEAs and the philosophy of system redundancy;
· An improved ability to operate the Engine Room and DP equipment in a safe and competent manner
· This course covers DP knowledge and can be combined with a Type Specific equipment training.